Social Media
Articles and Subjects on Social Media for w
Internet Marketing Guide for Writers and Businesses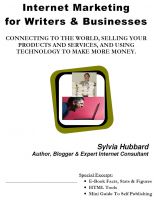 By Sylvia Hubbard
Rating:

(5.00 based on 2 reviews)
Published: April 12, 2009
Words: 18437 (approximate)
Language: English
description
A guide for writers with or without published work. A comprehensive resource that every writer should have in their library in order to learn how to publish, promote, and market themselves on the Internet. With over 1000+ websites, tips and more to help you become a success and spreading the word about your product and services.
Available e-book reading formats
| Format | Full Book |
| --- | --- |
| Online Reading (HTML, good for sampling in web browser) | View |
| Online Reading (JavaScript, experimental, buggy) | View |
| Kindle (.mobi for Kindle devices and Kindle apps) | Download |
| Epub (Apple iPad/iBooks, Nook, Sony Reader, Kobo, and most e-reading apps including Stanza, Aldiko, Adobe Digital Editions, others) | Download |
| PDF (good for reading on PC, or for home printing) | Download |
| LRF (Use only for older model Sony Readers that don't support .epub) | Download |
| Palm Doc (PDB) (for Palm reading devices) | Download |
Categories:

MWN Events Only, Social Media, Uncategorized
|
Tags:

Adobe Digital Editions, Aldiko, artist, authors, business, E-book, HTML, Internet Marketing, JavaScript, marketing, Promotion, Sony Reader, writers
|
Leave a comment
The economy is shaky, customers are more conservative and marketing budgets have shrunk. What's a  entrepreneur to do?
Well let's begin by looking at the definition of an entrepreneur. "Entrepreneurs use personal initiative, and engage in calculated risk-taking, to create new business ventures by raising resources to apply innovative new ideas that solve problems, meet challenges, or satisfy the needs of a clearly defined market." (Entrepreneurship: Creating a Venture by Lily Kretchman et al. Toronto: Wiley, 1991.) In this definition the answer is clear. Entrepreneurs no matter what the economic outlook take calculated risks, create new business ventures and solve problems.
This is why Social Media Made Easy works to give entrepreneurs the edge. Entrepreneurs have and will always be the creators of the innovative businesses ventures that will change the landscape of communities, cities and the world. So who needs on-line marketing/social media? The answer is authors, speakers, personal trainers, holistic health practitioners, coaches, self-improvement teachers, real estate agents, MLM professionals and all the other problem solvers. Finding and engaging your target market has never been easier and the best part is that access is essentially FREE.
Join Social Media Made Easy at Mobile Media Mysteries Uncovered 2/9/12 @ 6pm at WCCCD Eastern Campus.
At a Google presentation last week, many business owners in Michigan learned firsthand from the search engine gurus themselves, why every business must have a website.  At the top of the list of vehicles to help customers find their website was social networks like Facebook and Twitter.  These networks are so important because they help your customers find you as you leave breadcrumbs
that lead to your on-line store.
You may have heard that Google has recently launched their own social network, Google + but do you have a circles yet? If I'm talking a foreign language to you, I invite you to visit www.facebook.com/socialmediamadeeasycoachingand watch the recent videos that were created by Google to show you how their new social network can work for you.
Google gets it. They know that social networks are not going anywhere. They are only growing. Google sees that this concept of people connecting to the things that matter to them (which 10 years ago was made popular by another search engine Yahoo and social network MySpace) is worth them also giving it a shot. With the best internet minds and their robust search engine user collateral at their disposal, Google is betting they can compete with Facebook the current social network favorite with 500 million active users.
Don't wait any longer. Learn to maximize your social media connections and content. The book buyer's market is vast and many readers are impulse buyers. Start leaving breadcrumbs that lead to your book everywhere. Here is one of my breadcrumbs. www.theartofreinventingyoubook.com Follow it and see where it leads you.
BTW, http://bookbusinessmag.com has this free white paper "21 Tips for Book Publishers to Build an Effective Social Media Strategy" that I highly recommend. Check it out as well.
Until next time press those buttons, I dare you.
www.socialmediamadeeasydetroit.com
Related articles
Categories:
Social Media
|
Tags:

author, Essence of Motown, Facebook, Google, Michigan, motown writers, MySpace, Social network, Twitter, Versandra Kennebrew, Web search engine, writers, Yahoo
|
4 Comments
Since 2007 I have been an active user of Facebook and I have witnessed many upgrades and deletions of apps and such that drive interaction on the most common social network in history.  I've also watched businesses and author jump on the band wagon without a clue of what the game was about.  Monkey see, monkey do. And so it is with many authors.
This series of social media blogs for authors was birthed out of a desire to help authors stop being crowd followers and begin to open their eyes to the wealth of resources and income potential social networks bring. Today we will discuss the buttons or tabs that seem to get ignored because some people think that clicking them will break the computer or something.
So let me make it clear once and for all. Buttons are your friends. They want you to push them. They are crying out to you, "please,
pretty please stop ignoring me."  Now that we are clear  let's move on. The first question that any human has when exploring a subject is why and this is where we will begin in today's session.
When you press any button, you are activating or deactivating something. Press the power button on your computer and you turn it on. Press again to turn it off. Visit your email and enter a login code and password then press the login button to login or get started reading and responding to messages in your inbox.  Its kinda like when you come home from work, put the key in the key hole and turn it to enter your home. If you turn the key the wrong way, you may not get in the door but you have learned that if you turn the key in the opposite direction, chances are, you gain access.  You see, it's that easy.
So, the number one reason for pressing the button is to gain access and the second is to link access. If you are asking what you are gaining access too, then you are with me. The answer is you are gaining access to the originator of the button and in the case of social networks, you are also gaining access to the originator's network and if you add a link, you are giving access to an additional network. How cool is that? If you are not following me, don't worry, I'm going to make this all relevant in just a few.
Hopefully by now, every reader of this blog has a "like" page for their book. If not, stop reading this blog and do it now. Stop procrastinating and just do it. I want you to jump on the band wagon and explore your surroundings. This is a coaching blog so you are learning and not simply following.
Ok, now that you have your page up, you've followed all the prompts to populate the page with relevant content and invited your friends to join, visit www.facebook.com/socialmediamadeeasycoaching and let's stay connected just in case you need more support.
Back to gaining and linking access. Off-line people speak negatively about cliques because they have not gained access. They believe that the exclusivity of these groups or networks of like-minded individuals is a bad thing. They are jealous, because in their minds, they have placed the members of the clique in an elite position above themselves.  Social media takes the veil off cliques
because to gain access all you have to do is press a button. Are you with me now?
I'm still discussing the importance of buttons on social network sites in gaining and linking access. So imagine there is a book store that you want to sell your book. You go to the store's page and click the "like" button.  You now have access as a fan of
the bookstore. You look for the page owner's photo and button and click to access their personal profile. (BTW, you must access people on Facebook as yourself, not your business) You study their info page and find a common interest and on the basis of that common interest, you click the friend request button. Guess what? You now have access to their news feed (unless they have blocked non-friends) and you can get to know them better by reading it from time to time. You establish a rapport with the book store owner by liking, commenting and sharing relevant content and they invite you to do a book signing at their store yielding you hundreds of new customers.  How about that for access?
Now let's explore access from the standpoint of a company looking for a speaker who is an expert in a certain topic. You are the expert and your book delves into the topic the company is seeking. They place the topic (keywords) in the search bar but will they find you? The company reads one of your blogs and finds that you are knowledgeable, professional and your readers respond to you by looking at the comments, likes and shares at the bottom of your blog. Will you be the expert they contact? Have your readers actually enjoyed your content enough to link it to their Facebook page by pressing share. Is your comment box empty?
I've asked a lot of questions in hopes that they will trigger some thoughts and feelings regarding the importance of pressing buttons and interacting with good or bad content. The two examples I used, demonstrate the benefits of others using the buttons for your content but the golden rule is "do unto other that which you would have the do unto you."  Be a teacher. Show your contacts how it should be done by breaking free from the fear of pressing buttons and see how the back links, shares and comments begin to flow. Let's get liberated. Let's go viral baby. Start today by clicking the buttons below. If this blog was no good, say so by posting a comment. If it was helpful, you know what to do. Press "like" and add a comment to encourage your friends, groups or fans to also read it. Finally, commit from this day forth to never spend the time reading an article and not let your valuable opinion count.
Until next time, press the button, I dare you.
www.socialmediamadeeasydetroit.com Join Us!
Categories:
Social Media
|
Tags:

aspiring author, author, Button, coach, coaching, Content (media), detroit, Facebook, Login, Michigan, social media, Social Media Made Easy, Social network, Southfield, Twitter, Versandra Kennebrew
|
1 Comment
Writers are master story tellers. We take lessons and experiences; add characters, plots, antagonists and protagonists to the mix to produce products for customers all over the world to buy. But why does social media appear to be so problematic among authors?
The quick answer to this million dollar question is; just like a writer sends their transcript to an editor to check it for grammatical errors and make sure the story flows, they should also consult a social media strategist to help them develop an on-line communication plan (a script) that works for them.
After the social media plan has been established, character disassociation or roleplaying is an excellent tool for authors as they move into their role as best-selling author. Once you establish you are an award winning or best-selling author, you can determine what you really want to say to the world.  
Register today for the Upgrade Business Boot Camp November 14-16 from 6p – 9p
The first day of the boot camp is free to the first 10 authors to register on-line.  Get to know a social media coach and technology consultant that cares about you and your literary projects. 
Categories:
Social Media
|
Tags:

author, business, coaching, consulting, Internet Marketing, Manuscript, Marketing and Advertising, script writing, social media, Twitter, Versandra Kennebrew, Video
|
Leave a comment
So you have your Facebook Author Page up and running and you've invited all your friends to like you. Two-days have gone by and no one has liked you yet?  You begin to second guess yourself, wondering; what do they want from me for God's sake? But then you remember why you set the page up in the first place. You wanted to make sure your readers got to know you. You wanted to know that your message was getting across to your readers loud and clear. You wanted to meet your readers and reward them for their support. Well, here is a checklist that I use with my social media clients to make sure my I's are dotted and my T's are crossed.
Check to make sure your content is tight. Do you have 7 or more pieces of killer content populated on your page?
Is your information page totally complete with the about, description and award sections complete?
Do you have a favorable picture of you and your book or logo as the profile image?
Have you asked for feedback to encourage reader engagement?
Do you have excerpts from your book in the content?
Have you scheduled an event?
Have you linked your Facebook page to your Twitter Account and Website?
Have you identified 10 people per day that you can individually message, sharing something interesting about your new page with a link to it?
Have you liked relevant Like/Fan Pages?
Are you asking your friends to give recommendations on your personal wall with a link?
Learn more about how you can upgrade your social media at http://www.socialmediamadeeasydetroit.com
Everybody loves you, right? I'll bet you know because your bank account is overflowing with money from all the books you sell every day. Well, maybe not.
What if I told you there were a few easy ways to find out who really loves you on the internet by using a tool that comes standard with your Facebook fan page? What if all you had to do to expand the people who love you on the internet (people who would most likely buy your book) was to check this tool out regularly and target an ad directly to those people? Well it's a fact and this is how it goes in 3 easy steps:
In the last segment I briefly mentioned Insights (a Facebook tool which comes standard with Facebook pages that tells you how many people visited your page during any given period. This tool also tells you where your page visitors come from and their age range.
Review my last blog to learn how to grow your on-line community using killer content and after following those tips for 30-days, you can check your Insights and review them to see who loves you baby.
Now that you know who loves you, your goal should be to find more people in that demographic to join your community and buy your book. Referrals are the best way to do this however the second best is through Facebook ads.
I invite you to join me at my next Social Media Made Easy Meetup or call me for a Social Media Coaching Session if you need support with creating a Facebook ad or for referral strategies.
www.socialmediamadeeasydetroit.com
Your social media strategy is your road map to book sales success. But you don't get on the road traveling to a place you've never been before without mapping out your route. If you do, you must anticipate pulling over often and asking for directions. You will probably waste a lot of time and your productivity will suffer. Imagine yourself driving around in circles wandering, wondering how did I get here?
This is exactly why your social media strategy is so very important. Below you will find 10 tips for creating a successful social media strategy that will improve communication with your readers and encourage more book sales. I'll be looking forward to your questions in the comment section below and will answer them ASAP. Are you ready for the ride?
Determine your sales goal and your why
Decide the date you plan to achieve your goal
Who will help you achieve your goal
How will you celebrate achieving your goal
What incentive will you offer people who help you achieve your goal
Develop 10 pieces of killer content related to you as an author and your book's benefit to readers (videos, blogs, podcasts, interviews, press releases… add buy now links)
Introduce your content to your readers and potential new customers, 1 per day for 10 days (always ask open-ended questions)
 Encourage your affiliates and respond to your customers daily (refer to buy now links)
Evaluate your customers responses (Facebook insights, inbox messages, analytics), your sales to goal and your affiliate productivity
Repost your previous content using information from your previous posts and acknowledgement of previous supporters and affiliates
As a writer, speaker and coach I absolutely love social media. To me, it is the most amazing vehicle for global communication. No, I am not one for logging in to Facebook to talk about sitting on the porch watching the cars drive by, but I do visit my special places on the world-wide-web often. Typically I visit in the morning and then again in the evening to connect with my readers, clients and business associates. Sometimes I am only on-line for 10-minutes and other times I may hang out for an hour. My focus when I am there however is to connect, share and express who I am.
I told you already what I do for a living, but who I am runs much deeper than a title. I am a very passionate woman of faith who has been a talker since I was a youth. As a matter of fact, during my senior year at Ramsay High School in Birmingham, Alabama, I was given the official title "Most Talkative." At first I was offended. How could they possibly decide that I talked more than any other young lady in my graduating class? As the years went by, I began to see what others saw in me and gosh darn it, I did what every warm blooded American does when a gift or talent is discovered, I capitalized on it.
Ok, I'm telling you more about what I do but look deeper into my words. I'm telling you who I am but do you hear me. Are you really listening to my story? I believe I'm beating around the bush because I actually don't like putting a label on who I am.  I hate being put in a box. But, one day I was watching television and saw Halle Barry speaking about one of her many philanthropic efforts to support survivors of domestic violence. In that interview, she matter-of-factly stated that she was a "Life Changer." That title resonated with my spirit and I claimed it. My mind took me to the booth inside the Thai Food Restaurant in Greektown where my business coach and I sat and discussed the reinvention of my business. My tagline "Touching the World" described every product and service I provided and now "Life Changer" described who I was.
This is a sample of how an author can connect with their readers using social media via a blog. The above three paragraphs tell your readers who you are and why you are on Facebook, Twitter, LinkedIn and YouTube.   Now you are set apart from every other fiction and non-fiction writer using social media. Your readers are searching for you on-line. They are hoping to connect with you on a personal level. You know how fans talk about their favorite sports player? If you did not know it, you would believe they were friends from back in the day. They simply take bits and pieces from the news, interviews and gossip of course and talk about them as if they know them. This is also how your fans want to connect with you.
I know what fans are looking for because I listen when I run into them at the grocery store, the movies and even Starbucks. They always say, "I know you" then they continue to tell me something personal about myself. This summer, I attended the Kem Live @ Mack & Third: A Call to Service event, and on my way to my car, I saw a distressed young lady sitting on the steps of the Masonic Temple across from Cass Park in Detroit, MI.  I sat beside her as she told me her story. Several people stopped to hug me as they walked by and the young lady said the famous phrase "I think I know you." She continued to tell me about how I took care of my brothers because my mom was mentally ill. She said her mom was sick too and that she just put her out of the house and didn't care about her. She explained that she read my book at the local shelter where she was residing. Besides this personal story, the book Content Rules: How to Create Killer Blogs, Podcasts, Videos, Ebooks, Webinars (and More) That Engage Customers and Ignite Your Business, by Ann Handley, C.C. Chapman has all the research and more killer blogs for you to read. Content Rules is an essential read for every author. I use what I learned in this book every day.
Categories:

Social Media, Uncategorized
|
Tags:

Ann Handley, aspiring author, authors, C.C. Chapman, coach, coaching, detroit, Facebook, LinkedIn, Ramsay High School, Social Media Made Easy, Versandra Kennebrew, YouTube
|
6 Comments