A lot of the ideas we talked about today in the ebook can be found in many of these articles posted below in much more detailed.
Also follow sites like
… to get the latest on marketing and promotions by authors.
For others who asked, here is the instruction guide on formatting your ebook for smashwords…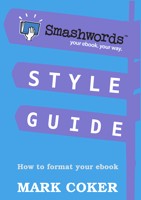 Smashwords Style Guide
The Smashwords Style Guide has helped thousands of authors produce and publish high-quality ebooks. This free guide offers simple step-by-step instructions to create, format and publish an ebook. It's required reading for any author who wants to distribute their book via Smashwords to major ebook retailers such as the Apple iBooks, Barnes & Noble, Sony, Kobo and Diesel.
If you have ebook promotion questions or want to contribute to promotion ideas we didn't discuss or share, please add them in the comments.
We might be adding audio to this post so if you want to get an update on this post please leave a comment and subscribe to just these comments. You can also make a comment of the presentation and what more you would like from it (in case I do it again.) Thanks