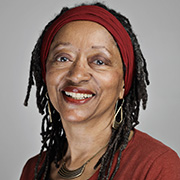 A 2017 Kresge Artist Fellow in Literary Arts and a former attorney, Jean Alicia Elster (BA, University of Michigan; JD, University of Detroit School of Law) is most recently the author of the young adult novel How It Happens, published by Wayne State University Press and released in September 2021.  She is the author of the novel The Colored Car—for ages 8 and older—published by Wayne State University Press and released in September 2013.The Colored Car was selected as a 2014 Michigan Notable Children's Fiction for The Colored Car by the Midwest Independent Publishers Association. The Colored Car was chosen as an Honor Book for the 2014 Paterson Prize for Books for Young People. Elster is also the author of the novel Who's Jim Hines?—for ages 8 and older—published by Wayne State University Press and released in August 2008. Who's Jim Hines? was selected as one of the Library of Michigan's 2009 Michigan Notable Books. In addition, the Michigan Reading Association placed Who's Jim Hines? on the Great Lakes Great Books Award 2009-2010 ballot for grades 4-5. Who's Jim Hines? was also a ForeWord Magazine 2008 Book of the Year Award Finalist in the category of Juvenile Fiction. Read More
Elster is the founder and president of Write Word LLC (established as Write Word, Inc. in 1994). She and her husband live in Detroit, Michigan and are the parents of two adult children.
Connect on Facebook,Twitter,Instagram & Pinterest
Author Website | Buy Book | Other Book By Author
About book:
How It Happens follows the story of author Jean Alicia Elster's maternal grandmother, Dorothy May Jackson. Born in Tennessee in 1890, Dorothy May was the middle daughter of Addie Jackson, a married African-American housekeeper at one of the white boardinghouses in town, and Tom Mitchell, a commanding white attorney from a prominent family. Through three successive generations of African-American women, Elster intertwines the fictionalized adaptations of the defining periods and challenges—race relations, miscegenation, sexual assault, and class divisions—in her family's history.
A continuation of the plots begun in Elster's two novels Who's Jim Hines? and The Colored Car, How It Happens continues the story for an older audience and begins with Addie's life before the turn of the century in the South as a married Black woman with three biracial daughters navigating the relationship between her husband and Tom Mitchell. Later the story shifts to Addie's daughter Dorothy May's experiences both as a child and later, as a teacher who, choosing between her career and marriage to a man she barely knows, moves to Detroit. The story moves along with Dorothy May's daughter Jean, who, with the support of her mother and the memory of her grandmother, confronts and comes to terms with her role in society and the options available to her as a college-educated Black woman in the post–World War II industrial North. While there is struggle and hardship for each of these women, they each build off one other and continue to demand space in the world in which they live.
Written for young adult readers, How It Happens carries the heart through the obstacles that still face women of color today and persists in holding open the door of communication between generations.
Author Website | Buy Book | Other Book By Author
Want more updates about the Michigan Literary Network? Click here to subscribe