BlogTour
Welcome Readers to our Featured Author Blog tour for:
 Kai Mann
 Author of her second release:  Abandoned Property.
Get your copy, click here.
Abandoned Property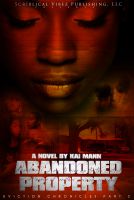 By
Kai Mann
Rating: Not yet rated.
Published: June 09, 2013
Words: 92,516 (approximate)
Language: English
ISBN: 9780984828135
 Short Bio
Kai Mann is the author of 30 Day Notice and her newly published book Abandoned Property. She is an independent contract writer for Examiner.com as Detroit's Best Friend Examiner, a member of the Motown Writers Network, and a contributor to the online poetry community.  Kai's purpose is to inspire thoughts pertaining to the themes of love, friendship, self-love, and self-progression.
Author's Website
About Abandoned Property
These characters all have something in common; they've been abandoned.
Even though their issues of abandonment stem from some of the same situations, how they play out is different in nature.
Will they go to the extreme opposite to ensure that the cycle ends with them? Or will they realize the blessings in being abandoned by people who never knew how to care for them in the first place?
Get your copy, click here.
FOLLOW THE AUTHOR ON HER BLOG TOUR!
Starting July 8th all over the #MotownLit Network, we're going to feature Kai Mann and her wonderful book. Continue reading →
Yes! Starting from July, Motown Writers Network is hosting authors for book tours.  Detroiter, Chris Lee is our first author to join us and support our Michigan Literary Network endeavor!
Each Day until the end of the tour, Chris Lee will be featured on one of our blogs, posted in our facebook group, facebook pages and facebook book club, along with being tweeted by founder of Motown Writers Network, Sylvia Hubbard on his blog journey.
Now this is no small feat because we
have specific blogs as you can see below and Chris had to write around the criteria's of each blog and be able to showcase his book and story around those criteria's at the same time!
It was wonderful to read each post and I  hope you enjoy them! At the end of the blog tour, join us back here after you've commented on each blog to enter a chance to win an amazon kindle copy of From Frustration to Fulfillment. 
ABOUT THE BOOK: